April 05, 2023 04:00 pm
- 05:00 pm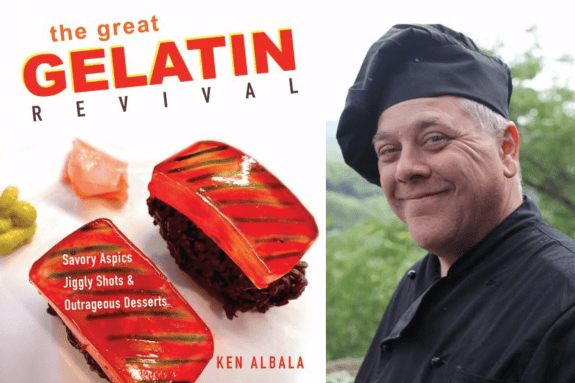 Join us for a book talk of The Great Gelatin Revival: Savory Aspics, Jiggly Shots, and Outrageous Desserts by History Professor Dr. Ken Albala. 
Once synonymous with food novelty, gelatin has re-emerged as an attention-grabbing element of creative cuisine and avant-garde drinkology. Ken Albala's most fearless food exploration yet takes readers into the sublime world of aspics past and present. Blending history with his trademark zeal for experimentation, Albala traces gelatin's ever-changing fortunes alongside one-of-a-kind recipes that inspire, delight, and terrify as only jello can do.
One copy of the book will be raffled off during the event.
Light refreshments will be provided. 
Location: Library & Learning Center Digital Wall
Add to Calendar
2023-04-05 16:00:00
2023-04-05 17:00:00
Book Talk with Ken Albala
Join us for a book talk of The Great Gelatin Revival: Savory Aspics, Jiggly Shots, and Outrageous Desserts by History Professor Dr. Ken Albala.  Once synonymous with food novelty, gelatin has re-emerged as an attention-grabbing element of creative cuisine and avant-garde drinkology. Ken Albala's most fearless food exploration yet takes readers into the sublime world of aspics past and present. Blending history with his trademark zeal for experimentation, Albala traces gelatin's ever-changing fortunes alongside one-of-a-kind recipes that inspire, delight, and terrify as only jello can do. One copy of the book will be raffled off during the event. Light refreshments will be provided.    Location: Library & Learning Center Digital Wall
3601 Pacific Ave, Stockton, CA 95211, USA
Library
Library
America/Los_Angeles
public
3601 Pacific Ave, Stockton, CA 95211, USA
William Knox Holt Memorial Library and Learning Center