February 10, 2023 09:00 am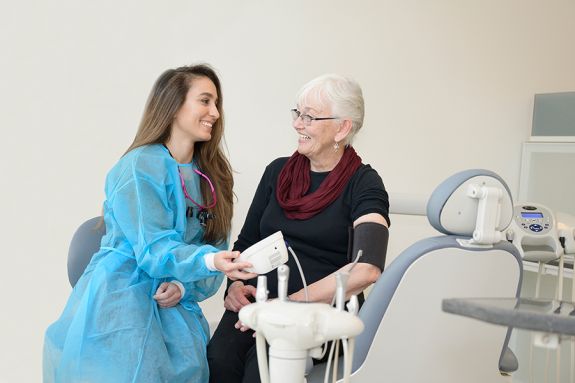 Virtual Course
August 26 – December 2, 2022
OR
February 10 – May 12, 2023
Led by Elena Francisco, RDHAP, MS, this online program is designed for dental hygienists interested in expanding their knowledge and ability to treat people with complex physical, medical or psychological needs and patients in underserved communities. It fulfills the Dental Hygiene Board of California's 150-hour education requirement needed to apply for an RDHAP license. The virtual program, offered twice a year, consists of live, interactive webinars, online modules and a field study.
The Dugoni School of Dentistry Difference
A personalized program for RDHs led by practicing RDHAPs
The only RDHAP program offered by an accredited dental school in California
A fully online program approved by the Dental Hygiene Board of California
Interest-free payment plans available to qualified candidates
Funding available through the Sallie Mae Smart Option Student Loan®
Convenient virtual program accessible from anywhere in California
Curriculum Topics
Dental hygiene practice and theory
Treating medically complex patients, geriatric patients and children
with and without special needs
Oral pathology
Pharmacology
Information management
Developmental disabilities and oral health care
Medical and dental emergencies
Business administration for dental hygienists
Tuition: $3,400
Deposit: $400 (nonrefundable)
Format: Live, interactive webinars, online modules and a field of study
Credits: This activity is designated for 150 units of continuing education credit.
Faculty
Elena Francisco, RDHAP, MS, graduated from Loma Linda University with a bachelor's degree in dental hygiene. She practiced clinical dental hygiene in Northern California for more than 40 years. She received her master's degree in dental hygiene from Idaho State University. She served on the faculty at University of the Pacific's Dental Hygiene program, teaching all aspects of dental hygiene. She graduated from the RDHAP program at Pacific and has maintained a practice since 2006, serving her community oral health programs as a resource, contributor and practitioner. She has authored several journal articles, contributed the chapter on "Protocols and Prevention of Dental Caries" in the 12th Edition of Clinical Practice of the Dental Hygienist, served on the peer review board for Dimensions of Dental Hygiene and serves on the advisory board for Elite Healthcare. She is a member of her professional organizations and is active in her local component and the California Dental Hygiene Association.
Paula Watson, RDHAP, MS, received an associate of science in dental hygiene from Foothill College in Los Altos Hills, a bachelor of science in health systems from Chapman University and a master of science in nutrition from University of New Haven. She also maintains licensure as an RDHAP. Paula has served as an associate professor of periodontics in the Dental Hygiene program at the Dugoni School of Dentistry and as senior clinic coordinator, and has taught a variety of didactic courses. Currently, as professor emerita, and in the role of faculty liaison for the RDHAP program, she helps prepare licensed dental hygienists expand their knowledge to improve access to care for underserved populations. Paula has served as a textbook reviewer and has published articles nationally. She currently divides her time between traditional dental and dental hygiene alternative practice, while contributing to a variety of professional and public health committees.
For more information, visit dental.pacific.edu/RDHAP
Add to Calendar
2023-02-10 09:00:00
2023-03-28 10:31:39
Registered Dental Hygienist in Alternative Practice Virtual Program (2023)
Virtual Course August 26 – December 2, 2022 OR February 10 – May 12, 2023 Led by Elena Francisco, RDHAP, MS, this online program is designed for dental hygienists interested in expanding their knowledge and ability to treat people with complex physical, medical or psychological needs and patients in underserved communities. It fulfills the Dental Hygiene Board of California's 150-hour education requirement needed to apply for an RDHAP license. The virtual program, offered twice a year, consists of live, interactive webinars, online modules and a field study. The Dugoni School of Dentistry Difference A personalized program for RDHs led by practicing RDHAPs The only RDHAP program offered by an accredited dental school in California A fully online program approved by the Dental Hygiene Board of California Interest-free payment plans available to qualified candidates Funding available through the Sallie Mae Smart Option Student Loan® Convenient virtual program accessible from anywhere in California Curriculum Topics Dental hygiene practice and theory Treating medically complex patients, geriatric patients and children with and without special needs Oral pathology Pharmacology Information management Developmental disabilities and oral health care Medical and dental emergencies Business administration for dental hygienists Tuition: $3,400Deposit: $400 (nonrefundable)Format: Live, interactive webinars, online modules and a field of studyCredits: This activity is designated for 150 units of continuing education credit. Faculty Elena Francisco, RDHAP, MS, graduated from Loma Linda University with a bachelor's degree in dental hygiene. She practiced clinical dental hygiene in Northern California for more than 40 years. She received her master's degree in dental hygiene from Idaho State University. She served on the faculty at University of the Pacific's Dental Hygiene program, teaching all aspects of dental hygiene. She graduated from the RDHAP program at Pacific and has maintained a practice since 2006, serving her community oral health programs as a resource, contributor and practitioner. She has authored several journal articles, contributed the chapter on "Protocols and Prevention of Dental Caries" in the 12th Edition of Clinical Practice of the Dental Hygienist, served on the peer review board for Dimensions of Dental Hygiene and serves on the advisory board for Elite Healthcare. She is a member of her professional organizations and is active in her local component and the California Dental Hygiene Association. Paula Watson, RDHAP, MS, received an associate of science in dental hygiene from Foothill College in Los Altos Hills, a bachelor of science in health systems from Chapman University and a master of science in nutrition from University of New Haven. She also maintains licensure as an RDHAP. Paula has served as an associate professor of periodontics in the Dental Hygiene program at the Dugoni School of Dentistry and as senior clinic coordinator, and has taught a variety of didactic courses. Currently, as professor emerita, and in the role of faculty liaison for the RDHAP program, she helps prepare licensed dental hygienists expand their knowledge to improve access to care for underserved populations. Paula has served as a textbook reviewer and has published articles nationally. She currently divides her time between traditional dental and dental hygiene alternative practice, while contributing to a variety of professional and public health committees. For more information, visit dental.pacific.edu/RDHAP
Arthur A Dugoni School of Dentistry
Arthur A Dugoni School of Dentistry
America/Los_Angeles
public