April 01, 2023 10:00 am
- 02:00 pm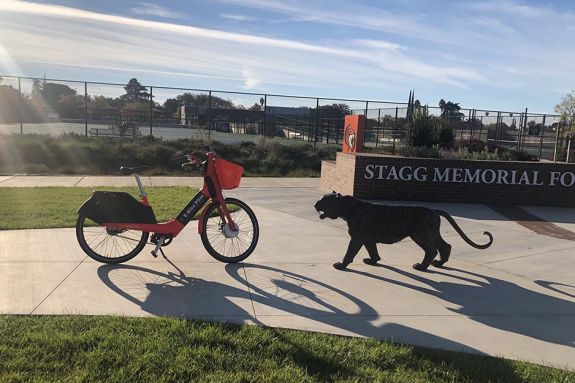 Celebrate the launch of e-bikeshare at Pacific and improved transportation options around Stockton!
Pacific is one of the first locations to launch a bikeshare program as part of the San Joaquin Council of Governments' Stockton Mobility Collective (SMC) initiative to promote clean, affordable transportation. SMC's projects include multiple bikeshare and carshare locations throughout Stockton. Stop by to:
Try out e-bikes and preview carshare electric vehicles
Sign up to use e-bikes and mobility apps
Connect with community organizations addressing local sustainability issues.
Celebrate! Ribbon cutting at 10:30 a.m.
Food truck and raffle prizes!
Location: Atchley Walkway and Brubeck Way, next to William Knox Holt Memorial Library.
No permit necessary to park in street spaces or lots on weekends. Rain location is Janssen Lagorio Gym.
The project is made possible by a Sustainable Transportation Equity Grant from the California Air Resources Board.
Add to Calendar
2023-04-01 10:00:00
2023-04-01 14:00:00
Rise 'N' Ride E-Bike and Transportation Event
Celebrate the launch of e-bikeshare at Pacific and improved transportation options around Stockton! Pacific is one of the first locations to launch a bikeshare program as part of the San Joaquin Council of Governments' Stockton Mobility Collective (SMC) initiative to promote clean, affordable transportation. SMC's projects include multiple bikeshare and carshare locations throughout Stockton. Stop by to: Try out e-bikes and preview carshare electric vehicles Sign up to use e-bikes and mobility apps Connect with community organizations addressing local sustainability issues. Celebrate! Ribbon cutting at 10:30 a.m. Food truck and raffle prizes! Location: Atchley Walkway and Brubeck Way, next to William Knox Holt Memorial Library. No permit necessary to park in street spaces or lots on weekends. Rain location is Janssen Lagorio Gym. The project is made possible by a Sustainable Transportation Equity Grant from the California Air Resources Board. Event Flyer (English) Event Flyer (Spanish)
3601 Pacific Ave, Stockton, CA 95211, USA
Student Life Sustainability
Student Life Sustainability
America/Los_Angeles
public
3601 Pacific Ave, Stockton, CA 95211, USA