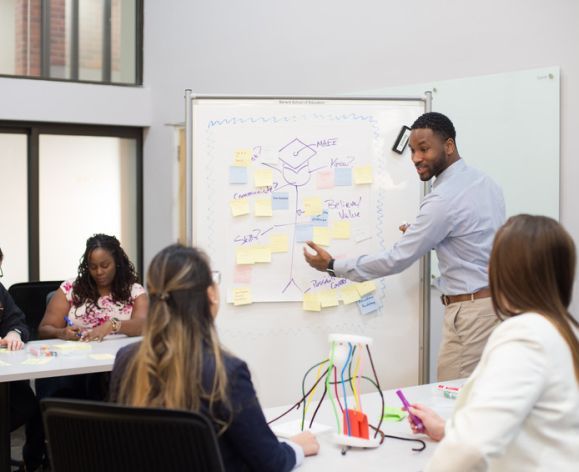 We understand that acquiring new skills can promote opportunities for professional success. We offer continuing education courses to help you grow your career and enrich your personal life. Continuing education courses offer Continuing Education Units (CEUs) intended for use where employers, licensing agencies, or other professional associations require a specified number of study hours. One CEU is awarded for each ten hours of contact participation.
There are many benefits that come from taking continuing education courses, including the opportunity to make more money, gain confidence, and make yourself more desirable in the job market. If you are looking for personal enrichment, continuing education courses can give you new skills to pursue your interests in life. Our courses come in a variety of topics including tech, business, health, writing, and many more. We are sure you will find something that fits your needs!
7 reasons why you should take a continuing education class
Variety of programs and courses: Benerd College offers a variety of options for students. 
Lower total costs: Online courses can be a more affordable option. 
More comfortable learning environment: There are no physical class sessions, lectures and other materials are electronically sent to the student. Students will not have to commute, leave work early, or miss important family time.
Convenience and flexibility: Benerd College's online courses give students the opportunity to plan their study time around the rest of their day, instead of the other way around.
More focus on your courses: Online courses could be easier to concentrate in because there are no distractions from other students and classroom activity.
Continue in your profession: Students can take online courses while working, in-between jobs, or taking time to raise a family. 
Improve your technical skills: The skills students learn to participate in their online courses translate to many professions.
Pacific offers engineering firms the opportunity to bring in Dr. Gary Martin to run a short, interactive training session for the purpose of bringing to light current and potential engineering-related ethical situations, and how to handle them. These sessions combine a mixture of short relevant presentations with thought-provoking debates, helping engineers to think more deeply and skillfully in resolving professional ethical dilemmas. Engineers will strengthen their abilities to apply the Code of Ethics along with fun moral theories and other tools in dealing with relevant dilemmas and challenging situations.
Benefits for Companies
Increased open and honest dialogue by employees.
Defense for court cases prosecuting companies for unethical conduct.
Decreased external whistle-blowing by employees.
Increased critical thinking skills by employees.
Reduction in and avoidance of legal risks.
Decreased lawsuits for safety of employees and safety of the public.
Goals of the Program
Elevate agency integrity.
Reduce risks of the work environment as well as the structures, products and services provided.
Help staff to feel professionally appreciated, reinforcing standards of conduct and personal character traits important for the organization. E.g., honesty, confidentiality, professionalism, etc.
Help to recognize and resolve specific professional and technology-related ethical dilemmas.
Provide direction on extreme circumstances. E.g., Company Ethics Officer, whistle blowing, stop work authority.
Augment terminology, concepts and tools for enhanced tech-specific ethical behavior.
Instructor Bio
Dr. Martin has been on the Engineering and Computer Science faculty at University of the Pacific since 1983. His primary course is Engineering Ethics. With a liberal arts-intensive broad background, Dr. Martin has visited with countless engineers and computing professionals, often at the job site over the years, frequently discussing technical ethics along with other aspects of professional conduct.
"Dr. Martin's brown bag lunch presentation on Engineering Ethics received a unanimous five star approval rating from the two dozen KSN staff members that participated. Dr. Martin's unique, interactive teaching style actively engaged all participants, and made for an informative and very entertaining discussion on this extremely important professional topic."
-Stephen K. Sinnock, Principal Engineer Kjeldsen Sinnock Neudeck, Inc.
Class Overview
The Project Management Professional (PMP)® is not just another credential. It is a certification that demonstrates to your employer or perspective employer that you have both the on-the-job experience as well as a recognized body-of-knowledge to lead mission critical projects. With the ability to successfully plan and execute critical projects, credentialed PMP® professionals are essential to the success of any organization. Moreover, Project Managers with the PMP® credential can earn up to twenty-percent more than their counterparts. The Project Management Institute's credential is the most important industry-recognized certification for project managers. Globally recognized and demanded, the PMP® demonstrates that you have the experience, the education and the competency to lead and direct a wide variety of projects.

Benefits of taking this class at Pacific
Obtain practical knowledge you can take back to your job the day after class. This class does not only focus on theory, but real-world examples that can be used immediately.
Learn how to initiate, plan, execute, and manage projects from an instructor with real-world experience leading mission critical projects in several industries.
Become a better project manager by picking up new tools, techniques, and principles via the latest Project Management Body of Knowledge (6 th Edition).
Learn the difference between and when to use waterfall, Agile and other project methodologies.
Learn to tailor your approach to projects to ensure the methodology doesn't become extra work or hinder project success.
Earn the 35 PDUs required for taking the PMP exam.
Prepare to take the PMP exam by acquiring tips, tricks and practical techniques to help you pass.
Energize your career development and become a better project manager, communicator, and collaborator.
Improve your personal brand and maximize your earning potential by adding PMP knowledge and the credential (must pass exam) to your resume.
Have access to a PMP® and PMI-PBA® credentialed instructor to help you study and prepare for the exam.
Class sessions recorded and will be available after class to help you study for the exam.
Take class in the format of your choice-instructor-led or remote.
Class is local to the California's central valley.

Who should take this class?
Those preparing for the PMP exam.
Information Technology or other professionals who want to acquire practical knowledge and tools for better managing projects.
Credentialed project managers who need a refresher course, or who would like to learn how to better apply project management principles to their jobs.
Supervisors, managers or other roles who manage projects for their organization.
Class Schedule
March 24 & 26, 6 pm - 9:30 pm
March 28, 8 am - 3:30 pm
March 31 & April 2, 6 pm - 9:30 pm
April 4, 8 am - 3:30 pm
April 7 & 9, 6 pm - 9:30 pm
Instructor-led at 1776 West March Lane, Stockton CA.
Schedule doesn't work for you? Let us know when would work best >
Remote option available by request:
o When registering, please advise Benerd College that you will be participating over the web.
o A link of your class will be provided to the email of your choice with instructions on how to attend class.
o Class times will be the same as actual class time.
o You will be able to communicate with other attendees and the instructor during class.
o All presentations will be available to you as they are to other students during class.
o You will have access to class recordings by request.
---
Professional Development Units (PDUs): 35
Continuing Ed Units (CEUs): 3.5
Course Code: UPRM 101
Cost: $1,795
Recommended books (a study guide is included in the course fee):
A Guide to the Project Management Body of Knowledge ( PMBOK® Guide), Sixth Edition, 2013. ISBN # 978-1-62825-184-5
PMP Exam Prep (Rita Mulcahy) Ninth Edition, 2018. ISBN # 978-1-943704-04-0
About the Instructor:
Faye Snowden, MA, PMP, PMI-PBA is a Senior Project Manager at the University of the Pacific in Stockton, California where she has worked for the last eighteen years. She has over twenty-five years of experience managing projects and is both a certified Project Management and a Business Analyst Professional. During her time at Pacific and in her early career at a large retail grocery store chain, Faye has led many high-stakes projects and programs including the design and build of a centralized help desk, the implementation of a university-wide VoIP system, and the implementation of ServiceNow and ITSM processes. Along with her experience in project management, Faye is a well-experienced IT professional with in-depth leadership skills. She has held management and director positions in data analysis, networking and telecommunications. She currently leads enterprise-wide projects while assisting with the build of the University's first ever I.T. Program Management Office. Aside from IT, Faye is the author of four published mysteries and has received writing fellowships at the Virginia Center for the Creative Arts and Djerassi
Programs in Lodi, Rocklin, Vacaville, Sacramento, Stockton, Tracy and other locations throughout the area.
For an enjoyable activity with lifelong benefits, we recommend one of our reading programs, which are designed and taught by instructors from the Institute of Reading Development. Programs have been offered as a community service by Benerd College, a non-profit organization since 2002.
To speak with a program coordinator, or enroll by phone, call (800) 964-8888
Monday-Friday: 5:00AM-7:00PM
Saturday: 5:00AM-4:00PM
Sunday: 7:00AM-3:00PM
For program locations and schedules in your area, select a program level above. The summer reading programs are available in Lodi, Rocklin, Vacaville, Sacramento, Stockton, Tracy, and other locations throughout the area.
5 reasons why you should take a continuing education class
Some jobs require specialized training, such as management or administration positions.
Obtaining additional education can increase your marketability in the job market.
Continuing education is the way to develop new skills or knowledge necessary for a career transition.
The courses you take do not have to be related to a career, continuing education is a great way to learn about new personal interests. 
Obtaining additional education can enhance self-image and have positive effects on other aspects of a person's life.